After an early 4am start to the day, a train, a plane, another train, a taxi and a 2.5 hour drive we finally arrived at our hunting destination, Ampton Hall in Ampton Estate, Livermere. The estate is situated in the south east of England and has a good number of muntjac, roe deer and the occasional fallow deer. We didn't waste much time on arrival, we greeted the head gamekeeper and his staff and then it was time to get changed into our hunting clothes to firstly check our rifles before heading out.
In total I had 6 outings and managed to take 9 muntjac, the morning outings were from 5:45 - 9:00am and the evening outings were from 3:30-7:00pm and all outings were conducted from high seats.
Day 1 - Thursday PM
I was situated in a small forest block beside a crop field and looking down the forest lane, for the first couple of hours all I saw were squirrels and hare but no sign of muntjac so inside I was beginning to have doubts. Then, just as the light started to fade around things started to happen, I saw a couple of muntjac cross the forest track about 150 meters to my left so the excitement began to grown and I prepared myself ready to shoot if the chance should arise.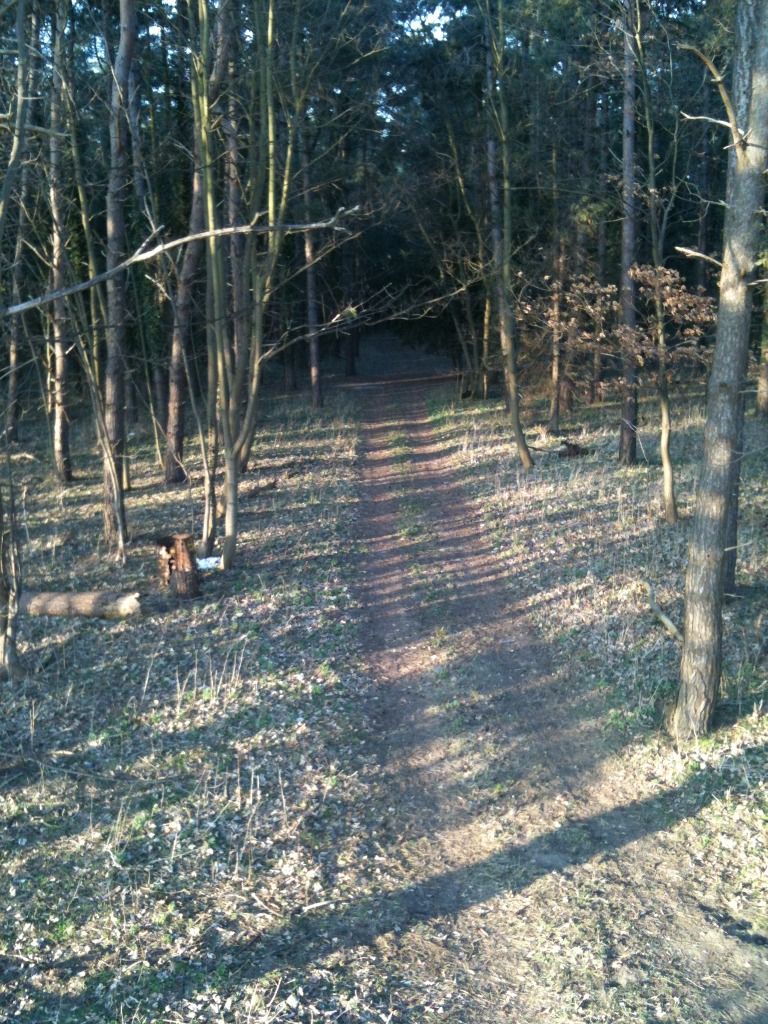 The forest track to the left of the high seat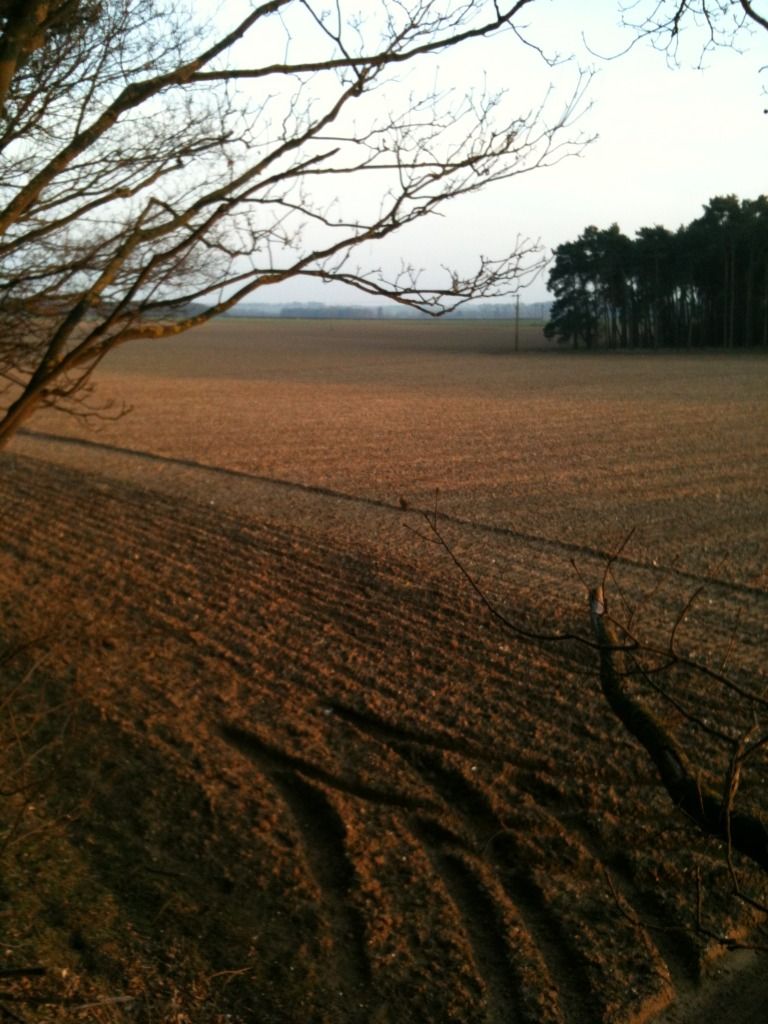 Ploughed crop field to the right.
About 15 minutes later a small muntjac doe appeared on the track and presented a perfect broadside shot, I lined up with my rifle and took the shot, the moderated 30-06 let out a crack and the muntjac slumped down onto the track and didn't move, my first ever muntjac lay on the forest track and I was ecstatic! =) About 30 minutes later another small muntjac doe appeared about 15 meters directly in front of my tree stand, I lined up the shot on her shoulder and fired, another muntjac on the ground! Two muntjac on my first ever muntjac hunt, a fantastic end to a fantastic day.
Day 2 - Friday AM
We awoke on Friday morning to a cold and very foggy morning, so hopes were slim from the offset and when I got to my post the visibility was about 20 meters but during the morning this slowly increased to about 75 meters. As the visibility increased enough to the point that it was good enough to identify the animals, I started to see some muntjac moving in the distance but too far away and too fast to take a shot. Then from nowhere a muntjac appeared right in front of me about 20 meters away! I quickly got my rifle ready, got the muntjac in my scope and made a little squeak to stop it, the second it stopped I released the shot, another muntjac on the ground, this muntjac turned out to be a young buck with small antlers and small fangs.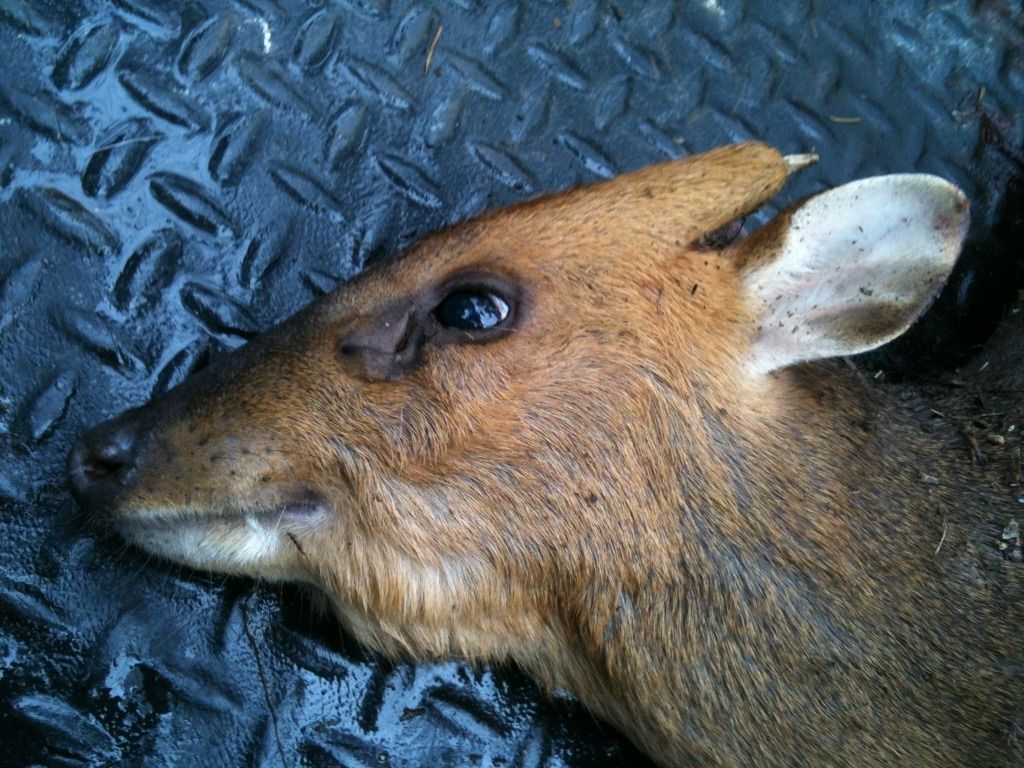 Young muntjac buck.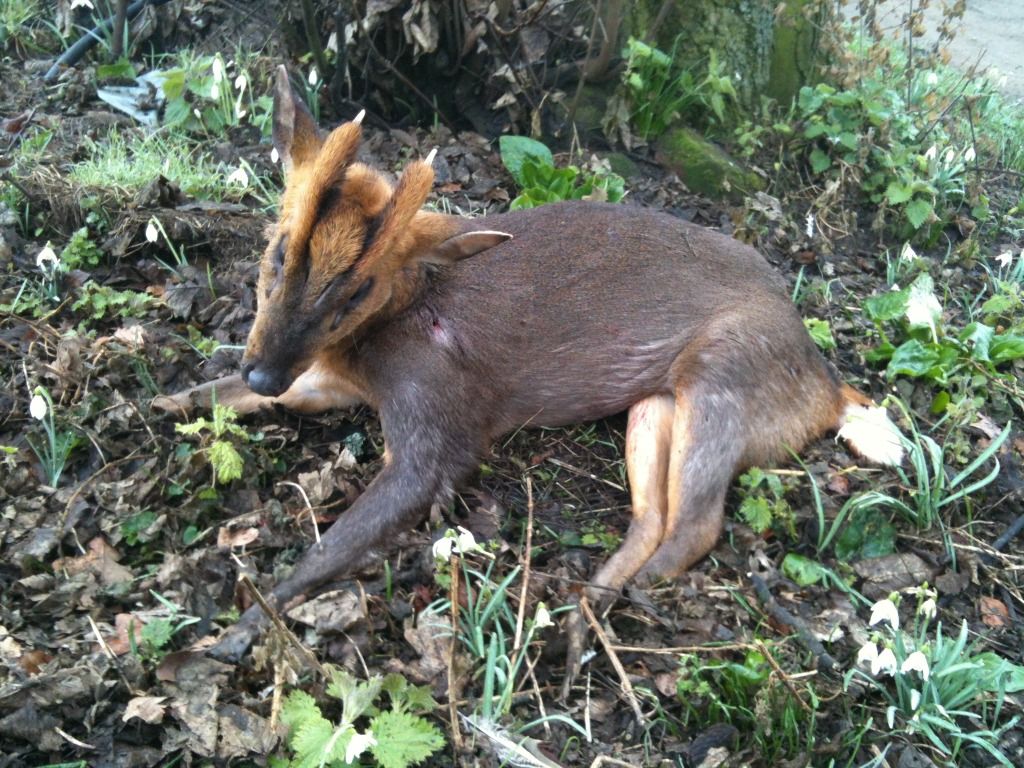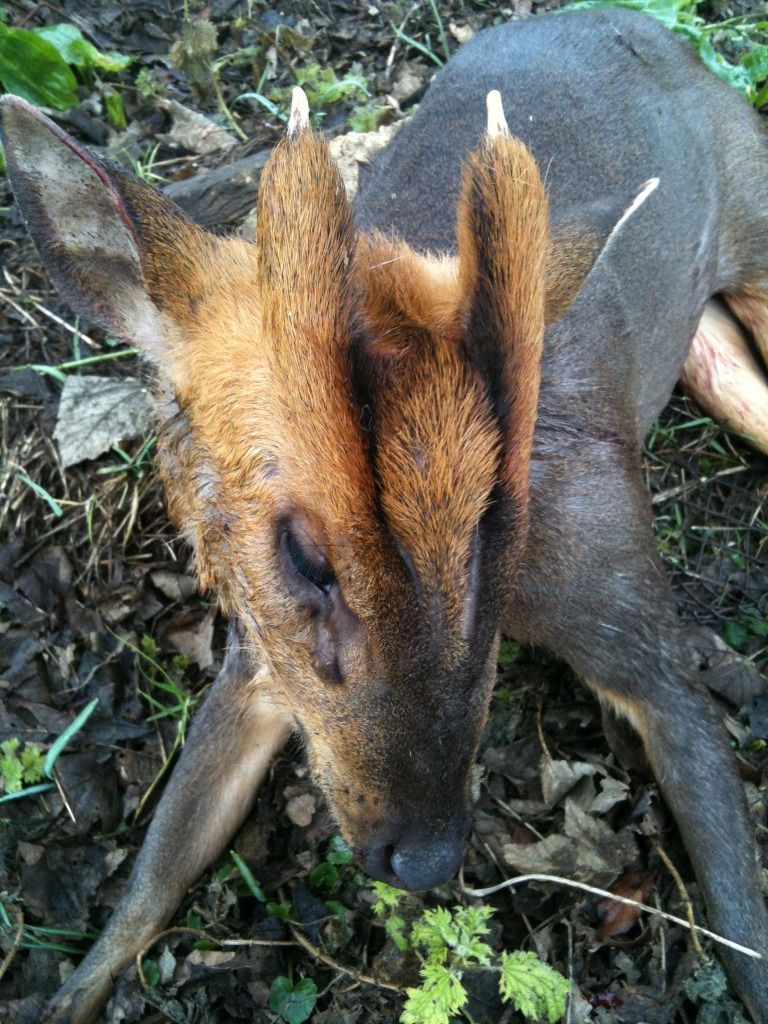 My buck and the two does from Thursday PM.
Day 2 - Friday PM
Friday evening found me in a high seat called "Chicken Extension" situated on the edge of a forest block overlooking a crop field and about 115 meters away were a small lake and beside it was a pheasant pen. I didn't get to take a shot on this outing but managed to get some footage of several different muntjac.
Small Muntjac Buck
Running Muntjac
Large Muntjac Buck with one antler
Day 3 - Saturday AM
Saturday morning I was situated on a high seat called "Cricket Extension" situated down a forest track with a crop field to the left. Just as the light was good enough to shoot I glanced to my left and there was a muntjac doe who had walked out of a small maize crop, I lined up the cross hairs and when she put her head down to feed I took the shot and she dropped on the spot. For the next 30 minutes all was quiet but then I saw three muntjac run across the forest track about 200 meters down the track, I got my camera ready in the hope that one would appear a bit closer but nothing showed, I looked to my left and there in the maize was a roe doe so I took the opportunity to get some camera footage.
Just as the roe doe had disappeared into the forest I glanced down the forest track and noticed a muntjac doe coming from the right hand side toward my high seat, I set up the camera and prepared for the shot.
Two muntjac does on the ground and my first ever kill captured on video! =)
Day 3 - Saturday PM
My post for the Saturday evening hunt was "Follo T" this was situated deep in a forest block and on the T-Junction of a forest track, with a shooting lane straight in front of me and a nice open area to the right. It wasn't long before I heard shots ringing out from around me but I was seeing nothing and was beginning to get impatient, then suddenly to my right a muntjac sprints across the open area but didn't stop to present a shot. A nice Reeves Pheasant stepped out into the clearing and started to feed so I decided I would get a little footage.
I saw several muntjac over the course of the evening, but either they were too far away or would stop long enough to present a shot.
Then over to my right just before final light a small muntjac appeared from nowhere in the middle of the clearing, unfortunately it was too dark for the camera but not for my scope =)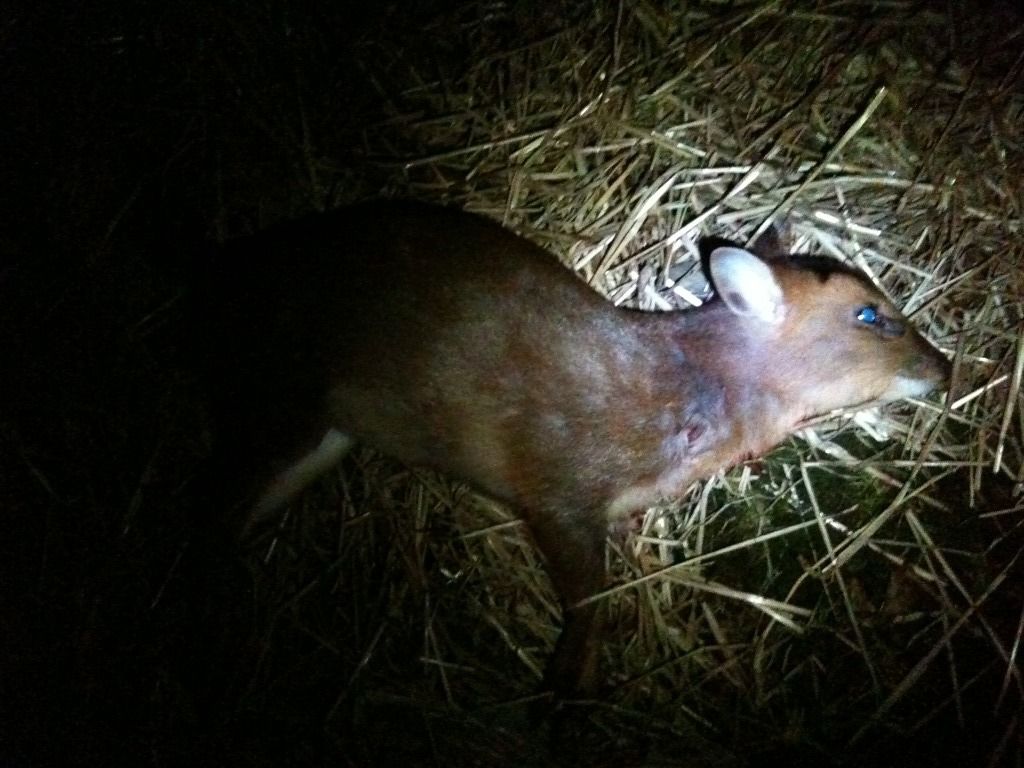 Day 4 - Sunday AM
Follo South" this had been a good post on the previous evening so confidence was high. It wasn't long before the muntjac began to move and very early on I had a small doe on the ground, unfortunately it was in a position where I couldn't capture it on film. Not long after the first kill, another doe stepped into the clearing to my left, I got the camera ready to capture the shot, then the muntjac ran and I thought my chance was over, but luckily it stopped right between two trees which presented me with a shot, I didn't hesitate!
Two on the ground and the morning was early! Then to put a cherry on the top and make my outing the most productive of my whole trip another doe stepped out, I lined up the cross hairs and took the shot, she dropped instantly and that was the end to a fantastic day =)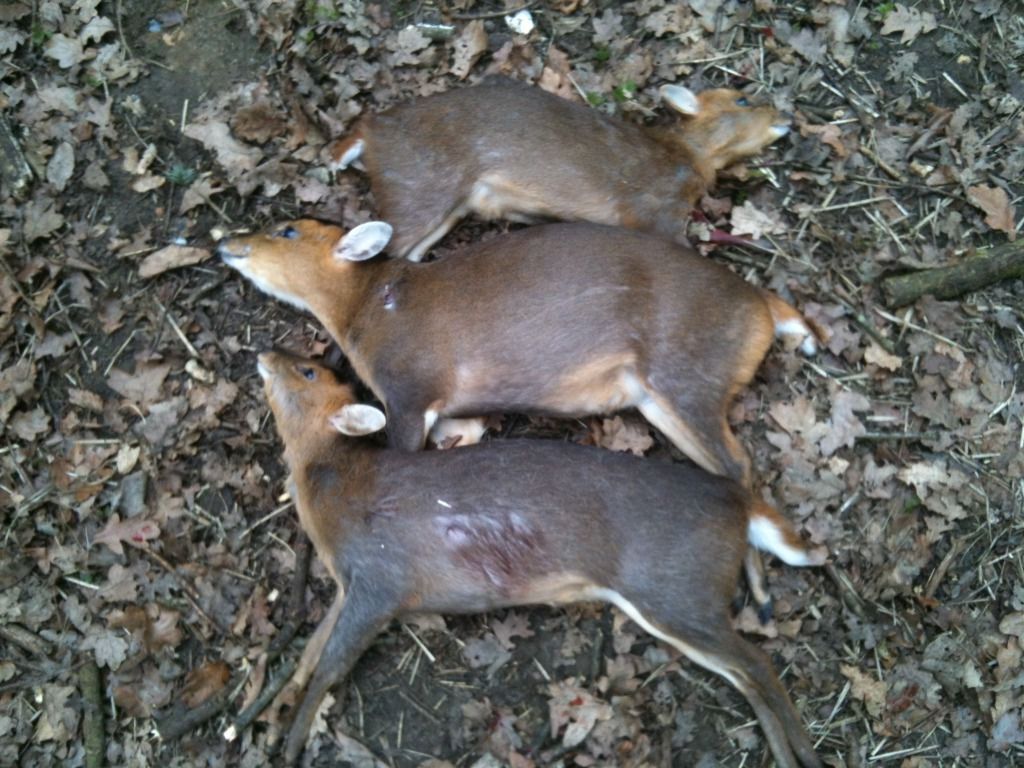 Hat Trick!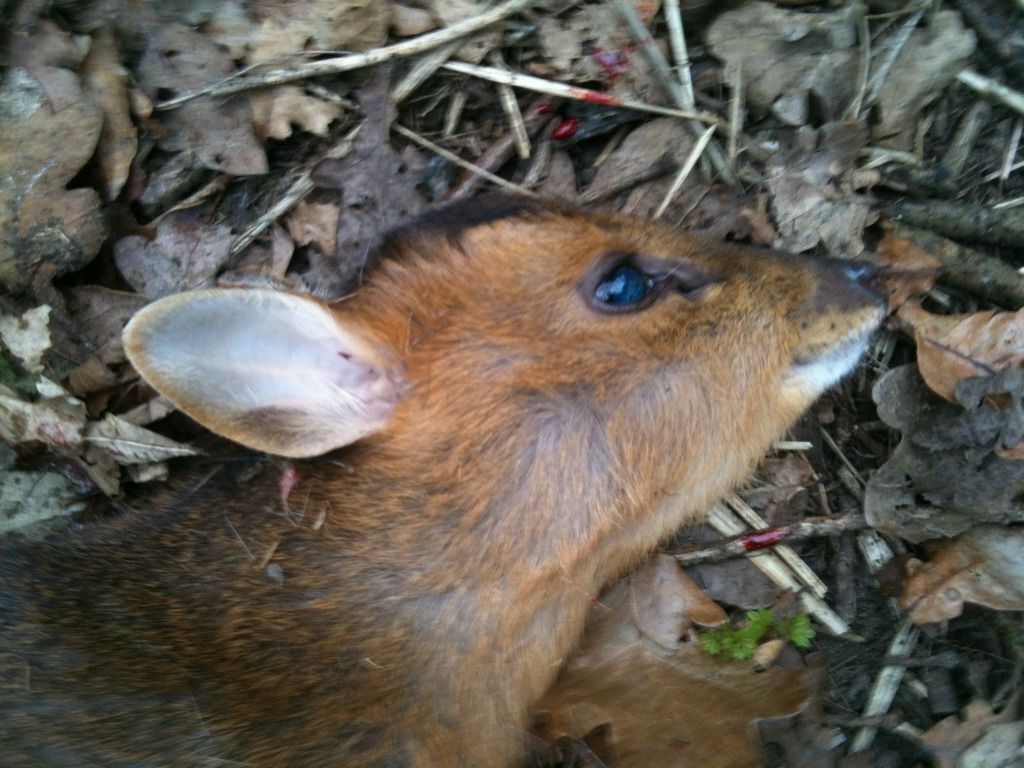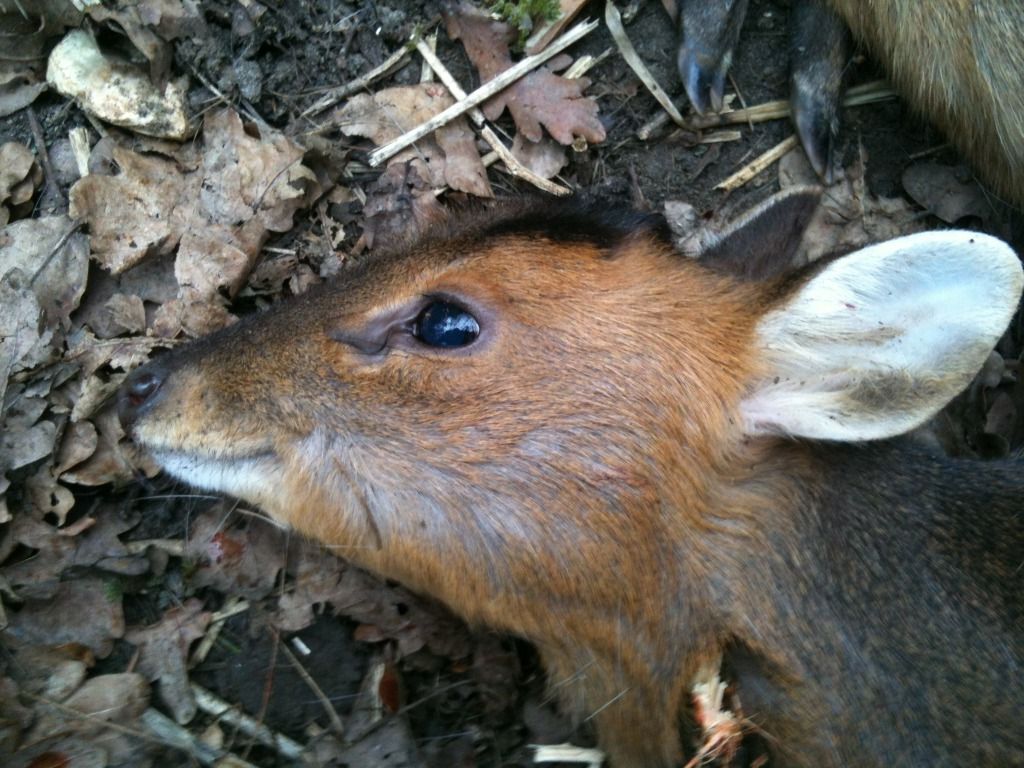 The trip was absolutely fantastic, I had never seen a muntjac before this trip and here I was with nine under my belt! This is definitely a hunting experience I would recommend, the muntjac are totally silent and just seem to appear from nowhere and there constant moving and twitching makes them an exciting quarry.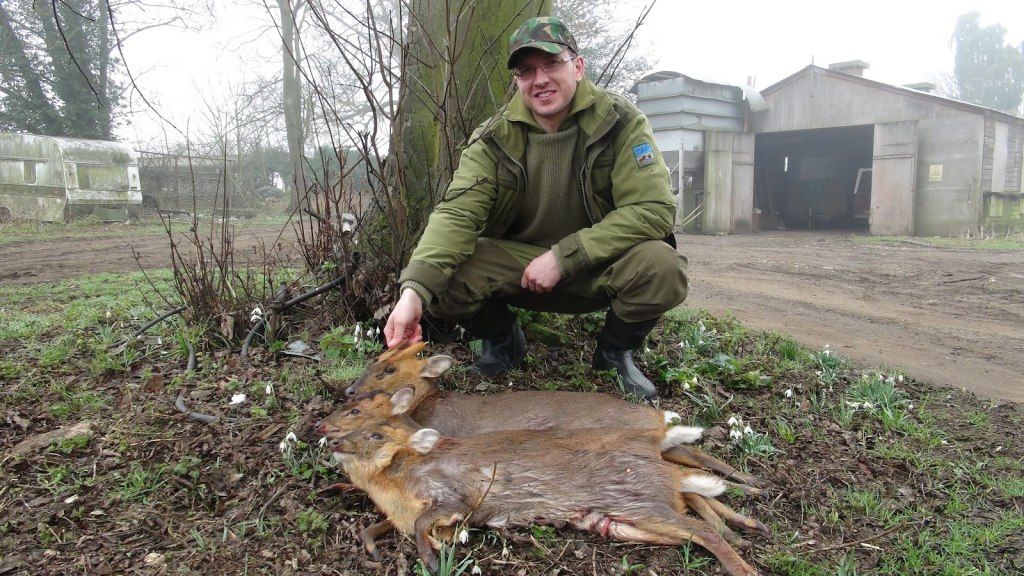 Yours truly (me) with the result of my first two outings.
One of the Americans on the trip, Gerry had a very productive weekend and managed to take four nice bucks.